One qualification of joining the Linux operating system fraternity is that you must be obsessed with mazes. Fortunately enough, there cannot be a single Linux user that does not like mazes. It is an enjoyable addiction that has defined our way of life in the Linux system environment.
The Linux operating system environment is itself a maze full of interesting knowledge and exciting experiences. For instance, in order to fully and confidently acknowledge yourself as an active and performant Linux administrator, you must conquer the maze hurdles associated with:
file system and management.
networking commands.
user and groups management.
system diagnostics and performance monitoring.
leading and analyzing logs.
Once you are able to conquer such hurdles associated with the Linux OS ecosystem, then you can call yourself a maze king/queen. However, this article is here to walk us through the installation and usage of a different kind of maze called mazter.
Mazter is a fun and interesting maze game that can be played on your Linux terminal. The rules of this multi-level game are simple, launching the game will put you somewhere in a maze and your primary focus is to find your way out of this maze.
The green squares on the mazter display your remaining gaming lives. Once you run out of lives, the game ends, and will have to replay it until you successfully pass the set game level.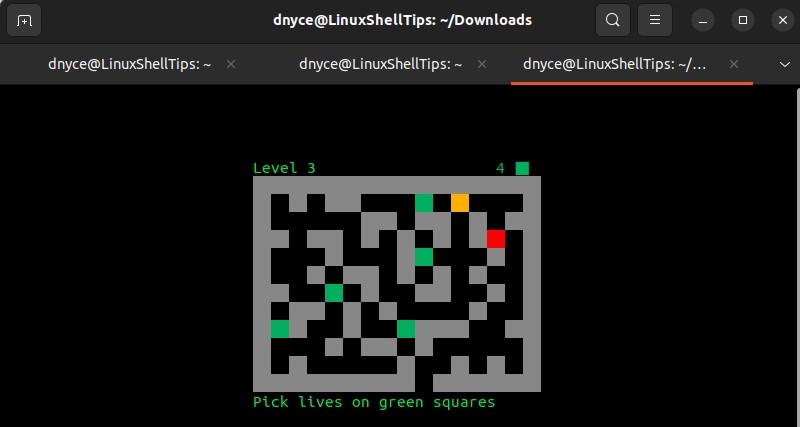 Consider the screen capture, above. The yellow square symbolizes the player (you). Every time the mazter player makes contact with the green squares, the player's life is increased.
Every time the player makes contact with the red square (monster), not only is the player's life reduced but the player is also teleported to another maze location.
Enough with the theoretical approach of playing mazter amazing game, how about we go through its actual installation guide on our Linux OS?
Install Mazter Game from Sources in Linux
To successfully install and use the mazter game, the following packages (git, curl and wget) should be pre-installed on our systems.
$ sudo apt install git curl wget       [On Debian, Ubuntu and Mint]
$ sudo yum install git curl wget       [On RHEL/CentOS/Fedora and Rocky Linux/AlmaLinux]
$ sudo pacman -S git curl wget         [On Arch Linux]
$ sudo zypper install git curl wget    [On OpenSUSE]    

Now if you want to compile mazter yourself, first install the Rust development environment on your Linux system.
$ curl --proto '=https' --tlsv1.2 -sSf https://sh.rustup.rs | sh

The installation process might take a while to complete, therefore, take a coffee break if need be.
Once installed, restart your current shell and configure the shell to install Mazter from sources as shown.
$ source "$HOME/.cargo/env"
$ git clone https://github.com/Canop/mazter.git
$ cd mazter
$ cargo install mazter 
$ mazter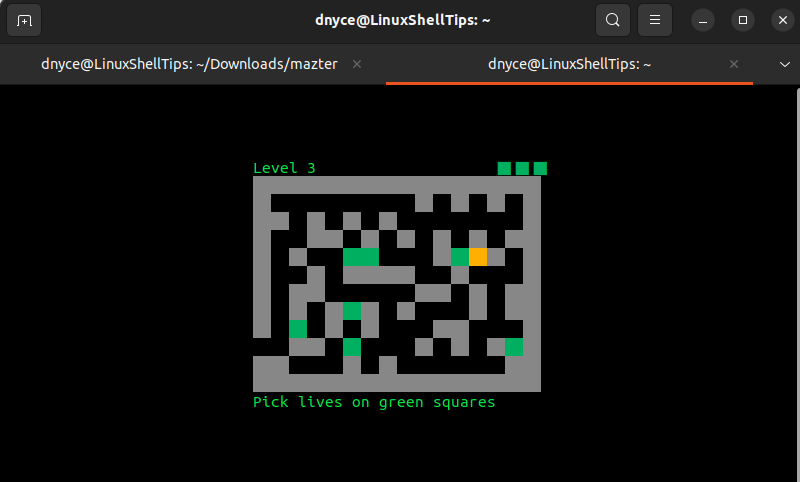 if you are not interested in installing Mazter from the sources as explained above, you can download its executable binary and run it as shown.
 
$ wget https://dystroy.org/mazter/download/x86_64-linux/mazter
$ sudo chmod u+x mazter 
$ ./mazter 

You can now enjoy this maze within the Linux maze as you take a break from your daily Linux computing tasks.