VirtualBox makes it possible for Linux users to explore the horizons of what all the Linux operating system distributions and their associated software have to offer.
The use and exploration of VirtualBox to run and test the performance of other operating system architecture and distributions build the confidence index of a user that wants to take/put that particular operating system into a production environment.
VM Virtual Disk Space
Most of the time, as you begin your journey as a VirtualBox, user, and explorer, you are not usually sure of the amount of Virtual Disk Space you should assign the guest OS you wish to install and test its response and performance.
You will find yourself going with the minimal Virtual Disk Space requirement. But once the guest OS performance meets your expectations, you might find it too cumbersome to uninstall and install it with a significant virtual disk space size.
This article will walk us through the steps needed to increase your VM's virtual disk space on VirtualBox.
Increasing Virtual Machine Disk Space on VirtualBox
This method targets the Virtual Media Manager on your VirtualBox's File menu. The first step is to locate and open the VirtualBox machine on your computer.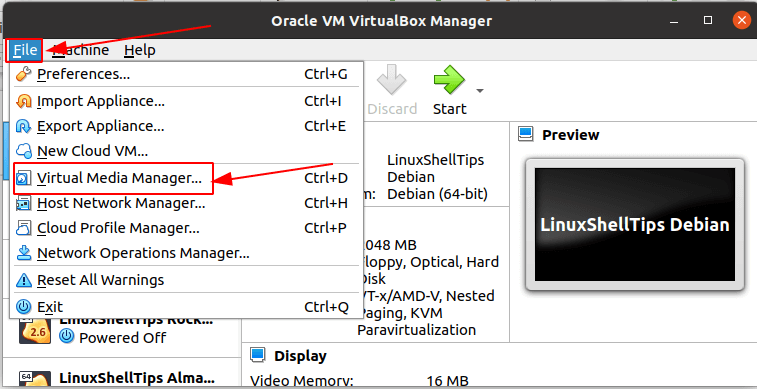 You will be presented with the following new Window display. Here, we can segment the Window display into two parts as demonstrated below.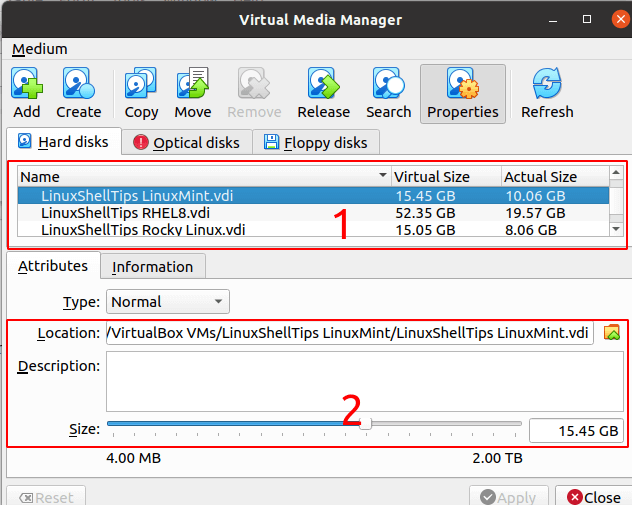 Section 1 shows the Virtual Size and Actual Size of the Virtual Disk Space belonging to all the installed guest OS on this VirtualBox.
If a guest OS machine is selected from this list, like with the case of LinuxshellTips LinuxMint.vdi, its Virtual Size is displayed in Section 2.
To increase this Guest OS' Virtual Disk Space, we will move the horizontal scroll bar under Section 2 to the right with consideration of the needed size increase.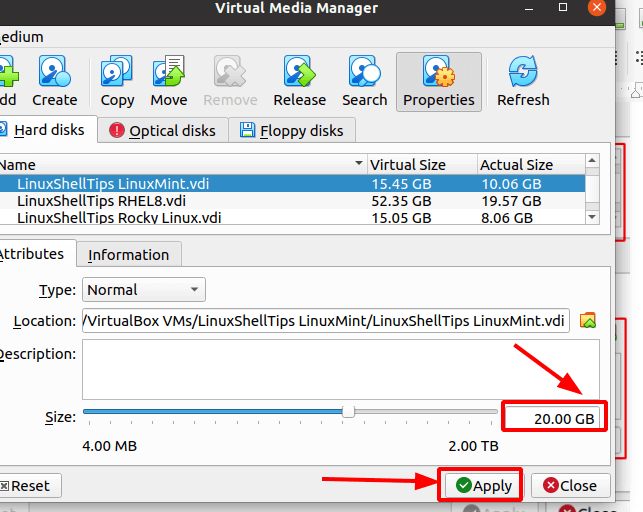 Click the Apply button to implement the Virtual Disk Space changes.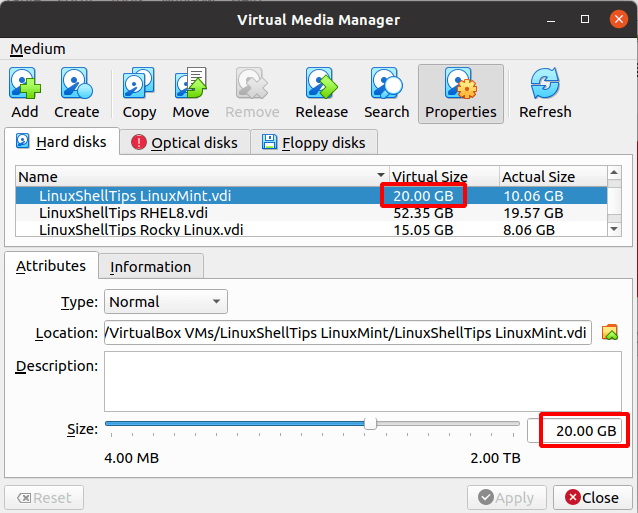 Restart your VirtualBox app and you should be good to go.
Knowing how to increase Virtual Machine Virtual Disk Space on VirtualBox gives you enough ammunition to explore as many operating system distributions and architecture as possible.