AlmaLinux is a stable, robust, and community-driven Linux distribution that was originally created by CloudLinux as a successor to CentOS which turned End-Of-Life at the end of December 2021.
AlmaLinux is completely free and open source and places an emphasis on long-term stability and providing an enterprise-ready environment for handling production workloads. It is 1:1 binary compatible with RHEL and is a perfect solution for users who cannot afford to pay for an RHEL subscription.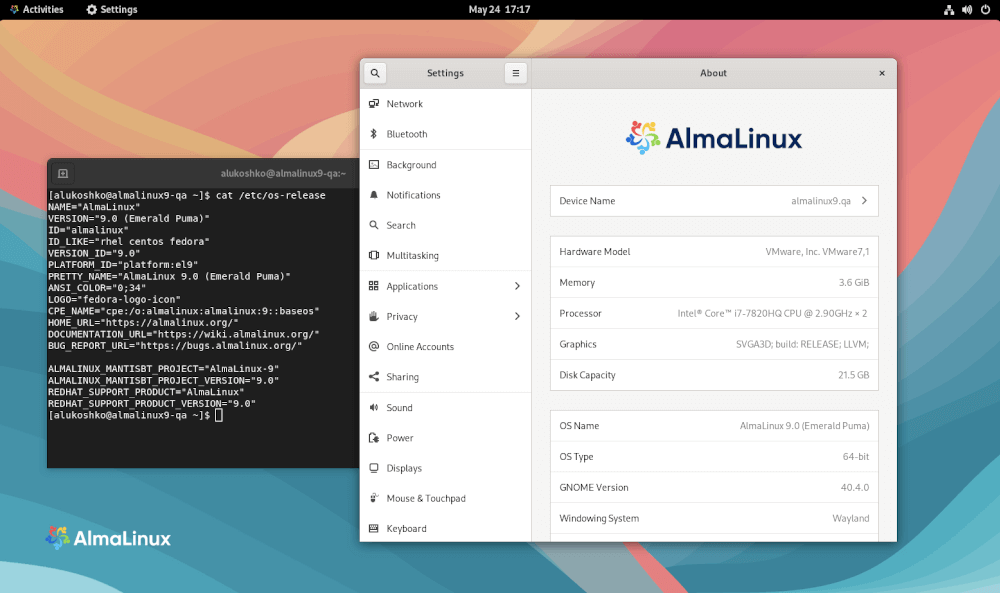 Join us as we take a trip down memory lane and see how AlmaLinux was conceived and its progress thus far.
AlmaLinux History
Following the announcement about the discontinuation of CentOS by RedHat at the end of 2021, the Linux community was thrown into a spin. The good-old and stable CentOS, which was a rebuild of RHEL and available at no cost was going to be phased out. As such, a sense of urgency to find better alternatives to fill in the gap left built up within the community.
Two formidable alternatives that offer rock-solid stability for handling enterprise-grade workloads were developed – Rocky Linux and AlmaLinux.
Almalinux was originally created by Cloudlinux in response to the demise of CentOS. Since its inception, it has gained considerable popularity among users in the community.
CentOS users can easily migrate to AlmaLinux thanks to the Elevate Project which allows migration from CentOS 7 to RHEL 8.x distributions such as AlmaLinux 8.x, Rocky Linux 8.x, Oracle Linux 8.x, and CentOS Stream 8.x.
Let us now have a look at AlmaLinux releases.
AlmaLinux 8.3 (Purple Manul)
AlmaLinux was unveiled to the general public starting with AlmaLinux 8.3 RC (Release Candidate) on February 21, 2021. This was followed a month later with the release of AlmaLinux 8.3 which is the first stable release of AlmaLinux which was 1:1 binary compatible with RHEL.
AlmaLinux 8.3 marked a huge milestone given that it was the first stable drop-in replacement for CentOS and the first AlmaLinux release to support enterprise-grade workloads.
It was made available for x86_64 architecture and is suitable for both server and workstation environments. A migration script was made available for users who wanted to migrate from CentOS 8 to AlmaLinux.
A notable issue with AlmaLinux 8.3 is the lack of support for Secure Boot. This was addressed by its successor, AlmaLinux 8.4.
AlmaLinux 8.4 (Electric Cheetah)
AlmaLinux 8.4 took over from AlmaLinux 8.3 and was made Generally Avaiable 2 months after the release of its predecessor on May 30, 2021. AlmaLinux 8.4 is based on RHEL 8.4 and it shipped with major improvements including:
Support for both x86-64, and ARM64 architectures.
Support for secure boot.
Production-ready OpenSCAP security profiles.
New module Streams such as Python 3.9, MariaDB 10.5, Redis 6.0, and PostgreSQL 13 among others.
AlmaLinux 8.5 (Arctic Sphynx)
AlmaLinux 8.5 was released on February 25, 2022. It added support for ppc64le CPU architectures. It came with numerous improvements such as:
Enhanced cockpit web console.
New repositories – ResilientStorage and Plus.
New profiles and improvements for SCAP Security.
Network Time Security (NTS)for NTP.
Support for OpenJDK 17.
New module streams include NodeJS 16, Nginx 1.20, and Ruby 3.0.
AlmaLinux 8.6 (Sky Tiger)
AlmaLinux 8.6 came into the picture on May 12, 2022. It supports x86_64, ARM64, aarch64, and ppc64le architectures.
Notable improvements include:
Web console enhancements.
New repositories – Real-Time ( RT ) and Real-Time for NFV.
Security updates for OpenSCAP and SCAP security guide.
Updated module streams including PHP 8.0, and Perl 5.32 among others.
Added drop-in configuration files for OpenSSH.
AlmaLinux 9.0 (Emerald Puma)
Codenamed Emerald Puma, AlmaLinux 9.0 is the latest stable release of AlmaLinux. It was released just two weeks after the release of AlmaLinux 8.6 on May 26, 2022.
AlmaLinux 9.0 provides support for the following architectures:
Intel/AMD (x86_64)
ARM64 (aarch64)
IBM PowerPC (ppc64le)
IBM Z (s390x)
AlmaLinux 9.0 provides support for Docker images. There are a wide variety of containers for users. Check out the Official Docker Images and the rest of the AlmaLinux images.
In addition, AlmaLinux images are available in major cloud providers such AWS, Google Cloud Platform, Oracle Cloud, and other public and private clouds. You can also get Vagrant Boxes for HyperV, VirtualBox, and Libvirt.
Key improvements include:
Linux kernel 5.14 which is the Upstream version.
Improvements to Cockpit web console.
Updated module streams including GCC 11, and Python 3.9.
Latest versions of Go, and Rust compilers.
Improved SELinux performance.
Visual Enhancements for the Desktop version including new wallpapers.
Check out the release notes for more.
Conclusion
AlmaLinux, just like Rocky Linux, is relatively new in the market. In spite of that, it has made huge strides and has been widely adopted by the community.
Its accomplishments are no mean feat and we can only wait to see what lies ahead. We hope you enjoyed the summary of the journey of AlmaLinux since its initial release.