There are two approaches to achieving your MySQL database administration goals. One is through a command-line client and the other one is via a graphical user interface. Both of these two approaches are evident with MySQL.
Most users rely on phpMyAdmin to administer and manage their MySQL databases. However, the GUI spectrum of phpMyAdmin does not match the graphical tools MySQL Workbench has to offer.
The MySQL Workbench database management tool is unmatched in its execution of database visual designs. Also, MySQL workbench has a dynamic user platform from database administrators, database architects, to database developers.
MySQL Bench Features
MySQL Workbench is available in three editions. They are the Community, Standard, and Enterprise editions. This article guide will focus on the Community edition since it's released under the open-source GPL license.
This open-source edition parades some very interesting features like data modeling, data migration, visual SQL development, visual DB administration, and connection management.
Before continuing with the article guide, be certain that you are a root user or you have Sudo privileges on the Ubuntu system you are using. Also, the MySQL database server software should already be pre-installed on your Ubuntu 20.04 system.
Installing MySQL Workbench in Ubuntu Linux
The first step prior to the installation of MySQL Workbench is to make sure that your Ubuntu system is up-to-date.
$ sudo apt update && sudo apt upgrade -y

Next, we need to retrieve a MySQL APT Repository configuration file from the MySQL Community Downloads page or use the following command to download directly on the terminal.
$ wget https://dev.mysql.com/get/mysql-apt-config_0.8.22-1_all.deb

Navigate to the download directory and install the mysql-apt-config file by implementing the following command execution.
$ sudo apt install ./mysql-apt-config_0.8.22-1_all.deb

The execution of the above command will lead to a GUI prompt asking you to select the MySQL version you are currently using. Navigate to the [Ok] option as shown on the screenshot below and hit [Enter] on your keyboard.
Once the installation of MySQL configuration is complete without any issues, update the apt-cache again.
$ sudo apt update

Now, to install MySQL Workbench Community Edition on Ubuntu through the APT repository, execute the following command:
$ sudo apt install mysql-workbench-community


Now that we are sure MySQL Workbench Community Edition is installed on our Ubuntu system, it is time to put it to the test by launching it.
$ mysql-workbench

You will be greeted with the following interface.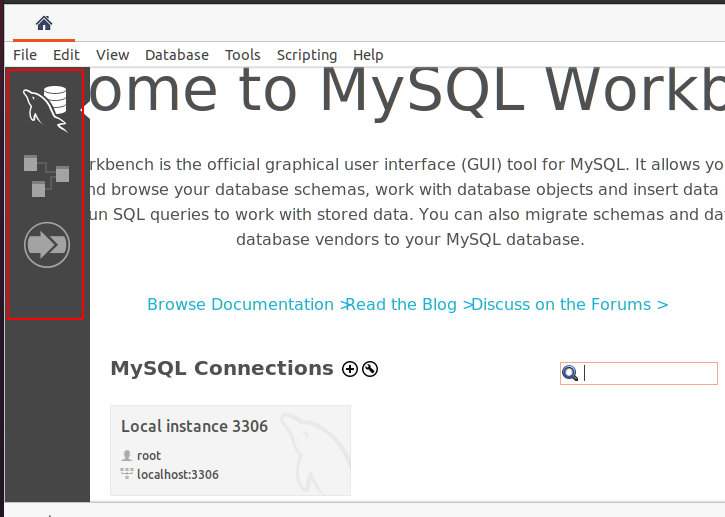 From here, you can interact with the various MySQL Workbench interfaces that will help you propel your database administration experience.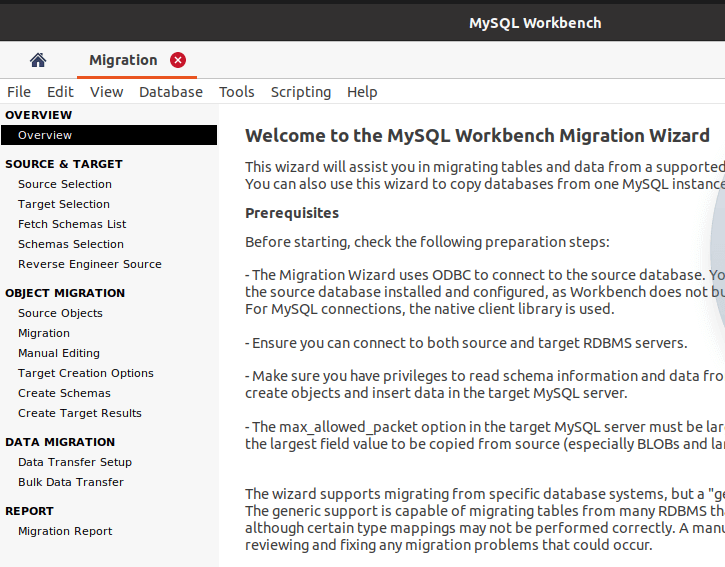 [ You might also like: MySQL Database Commands Cheat Sheet for Linux ]
With MySQL Workbench, you become more than a database administrator as all your database administration and management needs are met under a single GUI whether you are dealing with local or remote databases.