OpenSSH server is an implementation of the SSH protocol, which comes with a collection of networking utilities based on the SSH protocol. The SSH protocol is a secure protocol that encrypts all traffic exchanged between a client and remote host using strong encryption methods.
By default, the OpenSSH server comes installed in modern Alpine Linux systems. However if by any chance, the OpenSSH server is not installed, then this guide is what you are looking for.
Installing OpenSSH in Alpine Linux
We will start off by refreshing repositories or updating the package index of Alpine Linux using the following apk command.
$ apk update

Next, search for the OpenSSH server in the official Alpine Linux to confirm its availability.
$ apk search openssh

The output displays various OpenSSH packages that can be installed.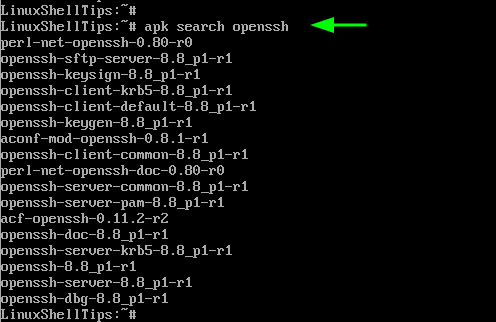 To install both the OpenSSH server and client and associated packages in Alpine Linux, run the command:
$ apk add openssh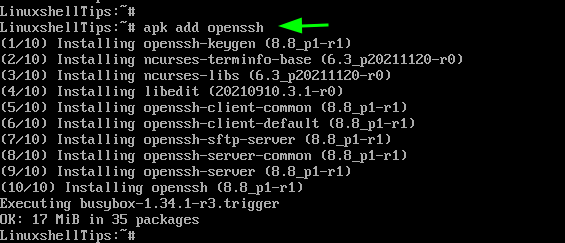 To confirm that the OpenSSH server is installed, run the command:
$ apk info | grep openssh

From the output, we can see that OpenSSH is installed.

With OpenSSH installed, enable it at system startup, start the service and confirm that the SSH service is running using the following commands.
$ rc-update add sshd
$ service sshd start
$ service sshd status


With SSH installed, you can now start making remote Linux connections using the following syntax:
$ ssh username@remote-server-ip

In this example, we are connecting to a remote Debian server.
$ ssh [email protected]


This leads us to the end of this article. In this tutorial, we walked you through a step-by-step procedure of how to install the OpenSSH server and client on Alpine Linux. Your feedback will be appreciated.