Since its inception in 1993, Debian has grown into one of the most robust, stable, and widely used Linux distributions. Debian is a free and open-source community-driven project that is actively developed & maintained by a community of vibrant developers from around the world.
Debian is a portmanteau that blends two words: Deb (Short for Debra, Ian's wife) and Ian, its creator. Debian is a fast, lightweight, and robust distribution that is dubbed the 'The mother of all Ubuntu distributions'.
Yes, Ubuntu is derived from Debian Linux and, as a result, this has yielded a myriad of Linux distributions based on Ubuntu such as Linux Mint, POP! OS and Elementary OS.
We already have an informative guide on the history of Ubuntu, so please check it out.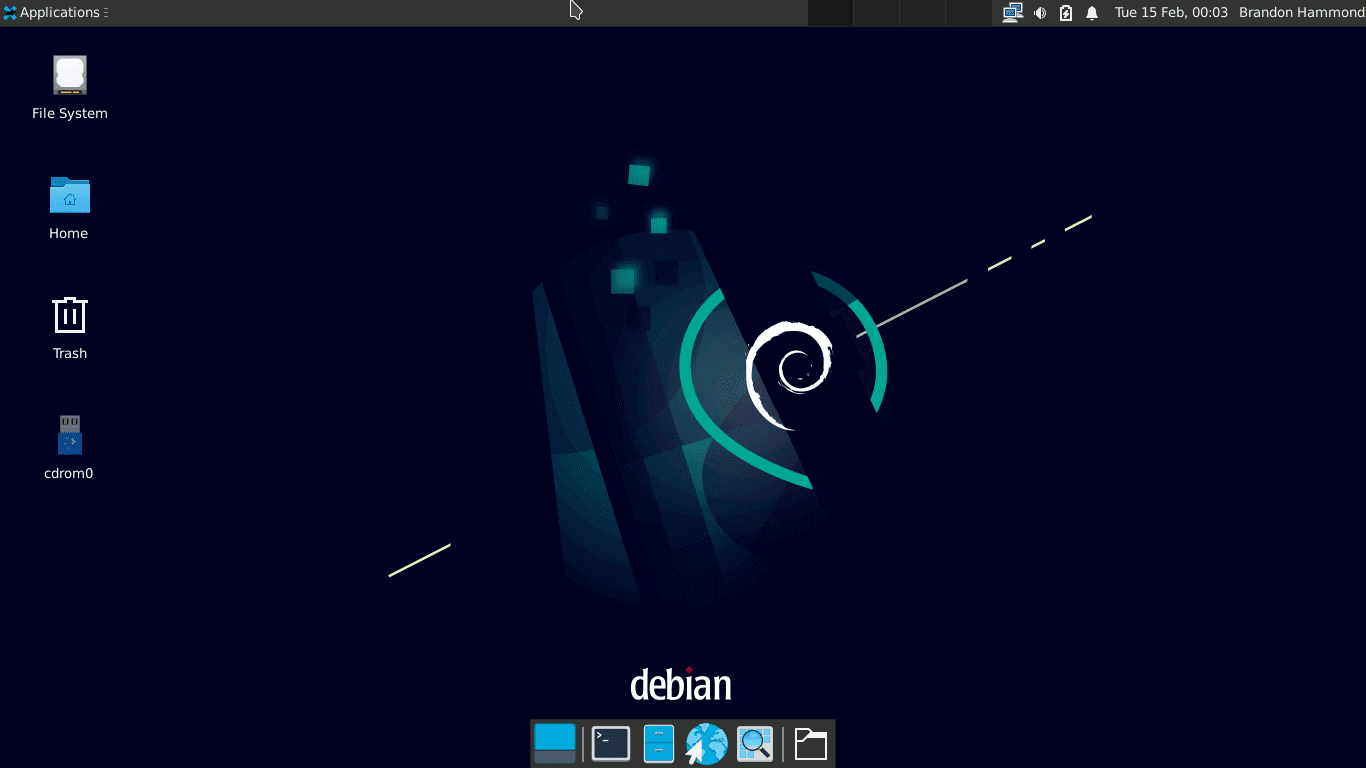 So where did it all begin?
Origin of Debian Linux
As earlier mentioned in the introduction, Debian was officially founded by Ian Murdock, who was an American Software engineer. It was not forked from any project and was entirely independent in its own right.
He steered the project between 1993 and 1996, after which Bruce Perens took over. Over the course of time, several leaders have assumed the mantle. The current leader of the Debian Project is Jonathan Carter. Check out the chronological order of Debian Leadership.
The maiden Debian release was Debian 0.01, and this was made available in September 1993. A couple of 0.9x releases were later developed between 1993 and 1995. It was on June 17, 1995, that Debian released its first stable version – Debian 1.1.
In October 2004, the first version of Debian-based Ubuntu – "4.10 Warty Warthog" was released. It was freely distributed and this caused quite a stir in the Linux community among both regular users and experts. This drove up the adoption of Ubuntu to become one of the most successful and popular Linux distributions.
Debian Linux Releases
Below is a list of Debian releases. We begin with Debian 4.0 (Etch) which was the first release to be ported to the x86-64 (amd64) architecture.
Debian 4.0 (Etch)
Released in August 2007. It introduced UTF-8 and included a udev device manager by default. It also ported Debian to x86-64 (amd64) and dropped support for the Motorola 68000 series. Debian 4 turned EOL on February 15, 2010.
Debian 5.0 (Lenny)
Released in August 2009. It was ported to ARM EABI and featured OpenJDK for the first time in Debian (OpenJDK 6). Debian 5 turned EOL on February 6, 2012.
Debian 6.0 (Debian Squeeze)
Released in February 2011. This is the first Debian release that non-free firmware components were removed from the main repository as a result of the change of policy. Support for Intel 486, HPPA, and PA-RISC architectures was dropped. First Debian to receive LTS (Long Term Support), which ended on 26, February 2016.
Debian 7.0 (Wheezy)
Released in May 2013. It featured support for UEFI and was ported to Armhf and IBM ESA/390 (s390x) architectures. Its LTS support ended in May 2018.
Debian 8.0 (Jessie)
Released in April 2015. It came with systemd installed by default instead of init. This was the first release to be ported to ARM64 and ppc64le architectures. Support for older architectures including SPARC, IA-64, kfreebsd-amd64, and kfreebsd-i386, and IBM ESA/390 (s390) was dropped. Long-term support for Debian 8 came to a close in June 2020.
Debian 9.0 (Stretch)
Released in June 2017. It came with numerous improvements and features. This includes support for flatpaks, the replacement for iptables with nftables, kernel upgrade from version 3.16 to 4.9, and MariaDB as a replacement for MySQL among many others. Long-term support for Debian 9 will end on 30, June 2022.
Debian 10.0 (Buster)
Released in July 2019. It included support for Secure Boot, came with Apparmor enabled by default, introduced LUKS disk encryption, and featured Wayland as the default displays server for GNOME. It will receive LTS support until June 2024.
Debian 11.0 (Bullseye)
Released in August 2021. It is the current stable Debian release at the time of writing this guide and will be supported until 2026. It came with major improvements such as Linux Kernel 5.10, driverless scanning & printing, and support for a wide range of desktop environments including GNOME 3.38, LXDE 11, MATE 1.24, KDE Plasma 5.20, and XFCE 4.16. Debian 11 will receive LTS support until June 2026.
Debian Linux Today
Debian still continues to stamp its authority in the Linux community. It is still freely offered under the GNU/GPL license with over 51000 installable packages including popular free applications such as Firefox web browser, LibreOffice suite, Evince document viewer, and GIMP image editor.
Debian offers netinst ISO images for installation for both 64-bit and 32-bit architectures. You also get an option to download Debian using the DVD torrent files which are also avaiable for 32-bit and 64-bit PCs.
During the installation, you can choose to go with a minimal installation or select a desktop environment from a wide array of options including GNOME, Xfce, KDE Plasma, or LXDE.
In addition, Debian is widely offered on many Private and Public clouds such as Amazon Web Services, GCP, Linode, and Azure, just to mention a few.
Thanks to its stability, security, and robustness, Debian has become a popular choice for servers and even IoT devices (ARM64 architecture).
Debian Linux Branches
Debian is categorized into 3 main branches:
Stable – This is the latest officially released Debian version. As the name suggests, it is a stable release and a secure one as well since it gets regular security updates. Currently, the latest stable version is Debian 11, codenamed BullsEye.
Testing – This is the current development or preview release of the next stable Debian version. It includes packages that have been tested and passed over from the 'Unstable' branch but are not ready to be released yet. As a developmental release, it provides newer packages that are stable but slightly older than unstable. The current testing release is Debian 12, codenamed Bookworm.
Unstable – This is codenamed, Sid. It's not an actual release, but a rolling developmental release that includes packages that have been accepted but not yet checked by Debian.
Some of the Linux distros forked from Debian include Deepin, MX Linux, Kali, and Linux Mint Debian Edition.
Conclusion
Debian still remains a popular distribution of choice for a good number of Linux users. It performs solidly as a production server but falls short behind other desktop distributions such as Ubuntu, and Elementary. However, it makes up for that is stability and security, thanks to regular security updates.
Overall, Debian provides the best blend of usability, package availability, customization, stability, and support for a wide range of hardware.