Kali Linux 2022.2 is the latest Kali rolling release that arrived a few days ago with Linux Kernel 5.10.103, defaults Xfce GNOME 42 desktop, new important tools, and tons of other enhancements.
New Features in Kali Linux 2022.2
Let's discuss some core important features of the Kali Linux 2022.2 release.
GNOME 42
The GNOME 42 desktop environment introduces Kali 2022.2 as a polished and adaptive operating system through its GUI improvements. The shell theme is graced with a modern look. Pop-up menus have adopted rounded edges as replacements for arrows.
Also, the dash-to-dock extension has passed through some tweaks and upgrades for better integration with this operating system's desktop environment and to get rid of some GUI bugs.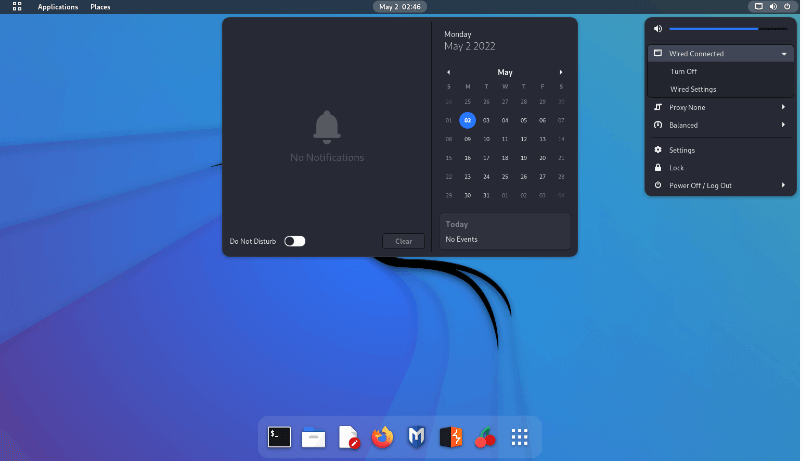 Built-In Screenshot and Screencast Tool
This GNOME 42 feature arguably exceeds other GNOME-42-related features. The GNOME 42 screenshot and screen-recording tool offer exceptional user experience improvements.
By default, user-captured screenshots are saved in the ~/Pictures/Screenshots/ system directory with a screenshot copy left on the clipboard for immediate use if needed.
The keyboard combination Alt+PrtScr takes a window screenshot and Shift+PrtScr takes a full-screen screenshot.
KDE Plasma 5.24
KDE Plasma 5.24 brings a smooth and evolved Desktop environment design to Kali 2022.2 users. By interacting with this new KDE-versioned desktop environment, you will immediately note the usability and overall feel improvements associated with it.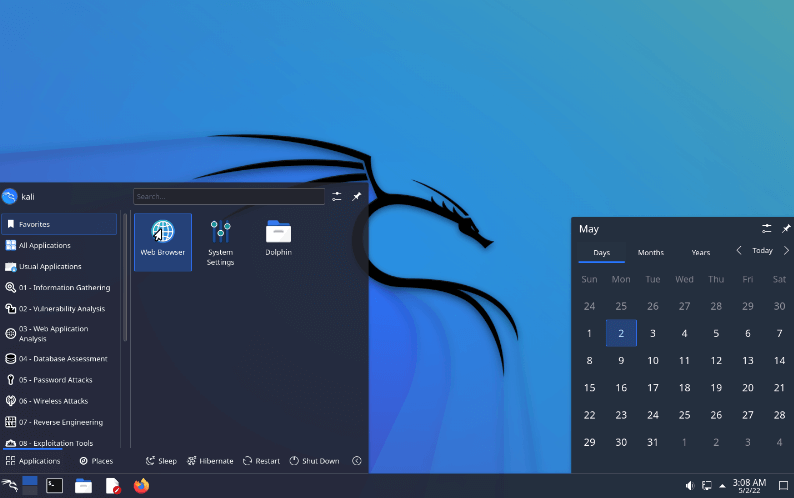 Multiple Xfce Desktop Enhancements
If you are looking for an alternative to GNOME 42 or KDE Plasma 5.24 Desktop environments, you will not be disappointed with the following Xfce tweaks and improvements.
logout dialog is no longer associated with a noisy motherboard beep.
Multi-monitor setups accompanied with an already-set default wallpaper.
Fixed issue with files missing a newline at their ending when using mousepad (text editor).
Large displays auto-scaling prevented by fixing mouse pointer size.
Arm devices adopt a simplified panel layout.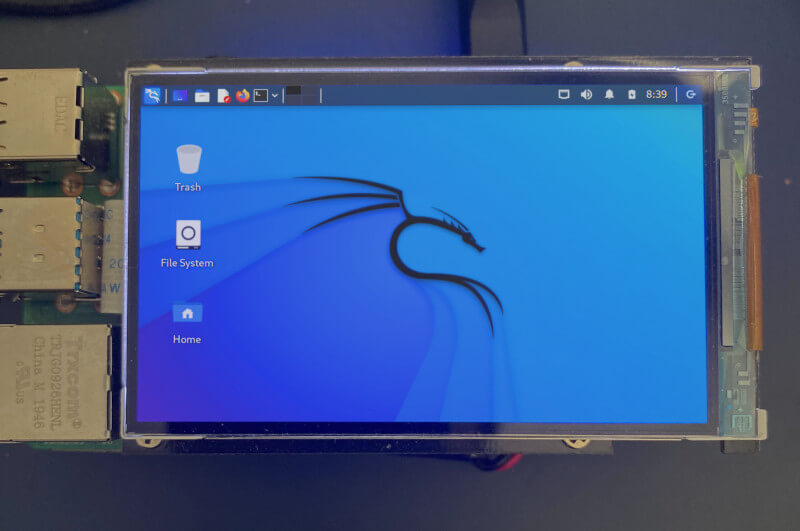 New/Improved Terminal Tweaks
We have noted the following terminal tweaks associated with Kali 2022.2 release.
Zsh syntax-highlighting colors have undergone some modifications to enhance its legibility criteria.
Default Kali installations now include python3-virtualenv and python3-pip.
John the Ripper now has shell auto-completion functionality.
No need to switch to the share directory (e.g cd /usr/share/john) of …2john tools (e.g pdf2john, 7z2john, etc.) before using them as they can be directly accessed by simply typing their names.
April Fools – Hollywood Mode Screensaver
With this screensaver project already existing in the Kali Linux 2022.2 repository, it can be installed with the following command.
$ sudo apt -y install kali-screensaver 

The launcher for this screensaver can be installed with the following command.
$ sudo apt -y install hollywood-activate

To launch the screensaver for the Kali Linux terminal, execute the command:
$ hollywood-activate 

New Tools in Kali Linux
Like every version release, the latest v2022.2 also comes with several new tools for ethical hackers and pentesters.
wifipumpkin3
SentryPeer
PhpSploit
Httpx
Evil-WinRM
Sparrow-wifi
PEDump
LAPSDumper
Hakrawler
BruteShark
Download DVD ISO Images Of Kali Linux 2022.2
Kali Linux offers three types of images: Installer, NetInstaller, and Live. Installer image provides complete offline installation with the customization and no network connection.
Contrary to Installer, NetInstaller image needs an internet connection to download all packages during installation. And if you wish to use Kali Linux without installing it first, a Live image is what you should download.
Also, the ISO image of Kali Linux is available to download for both 32-bit and 64-bit architectures. Moreover, images are pre-built and pre-configured for each platform including bare metal, virtual machines, ARM, Mobile, Cloud, and WSL.
Download Kali Linux 2022.2 DVD ISO
Hope you will enjoy what Kali Linux 2022.2 release has to offer.