Google Drive is one of the most popular cloud-based services for storing and sharing data online. It comes with a basic free plan of 15 GB of storage for all users.
Most commonly people use it for its data backup feature which allows users to store their important data on the drive. Another exciting and professional feature of google drive is the use of Google Sheets, Google Docs, and Google Slides which provides ease of access from anywhere.
Unlike other operating systems where you can download and install a file directly on your system without any compatibility issues or third-party apps, Ubuntu is a bit different in this aspect. As there is no official Google client available for Linux-based systems to install Google apps.
This guide will cover these methods to install and use Google Drive on your Ubuntu system:
Let's start with the first one!
1. Use GNOME Online Accounts For Google Drive
Newer versions of Ubuntu are preloaded with GNOME Online Accounts. However, if your Ubuntu is missing the GNOME then you will have to manually install GNOME Online Accounts.
If you can't see the Gmail option in your Setting's Online Account tab then you need to manually install GNOME using the apt commands stated below in the terminal:
$ sudo apt update
$ sudo apt install gnome-online-accounts -y

Once you have installed Gnome Online Accounts, open the settings menu in your Ubuntu and head inside the "Online Accounts" tab.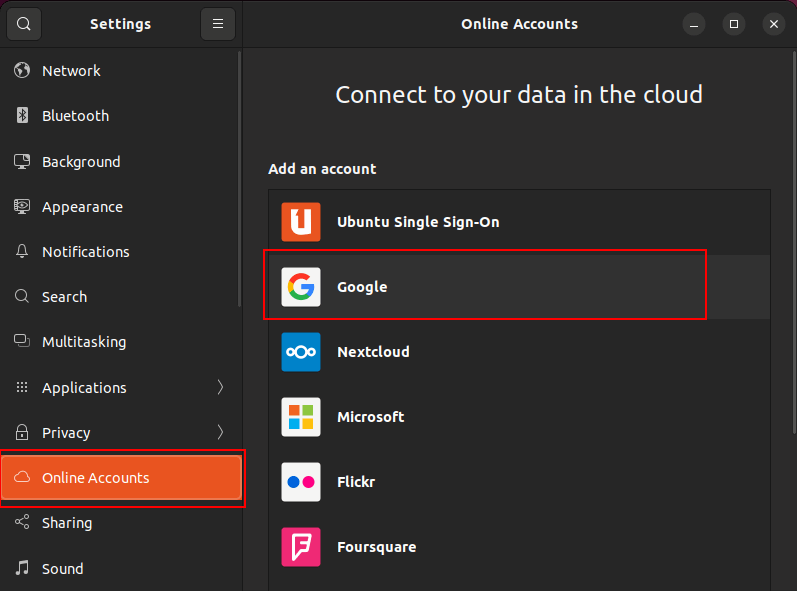 Then, click on "Google" from the Online account settings and a pop-up will appear. Here, input your Gmail ID, click "Next," and type your Password to access your drive.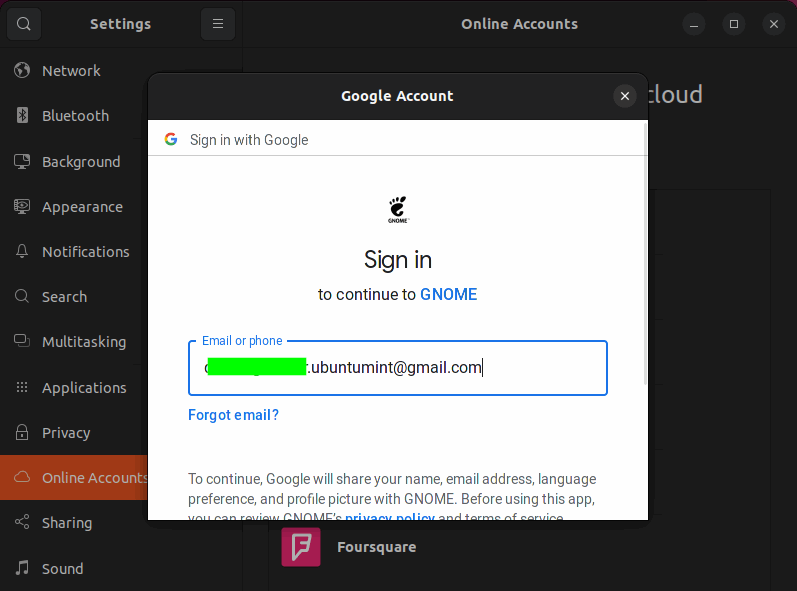 Moving further, another pop-up will appear asking for you to "Allow GNOME to access your Gmail account". Click on "Allow" and your Google Drive will connect to your system through GNOME.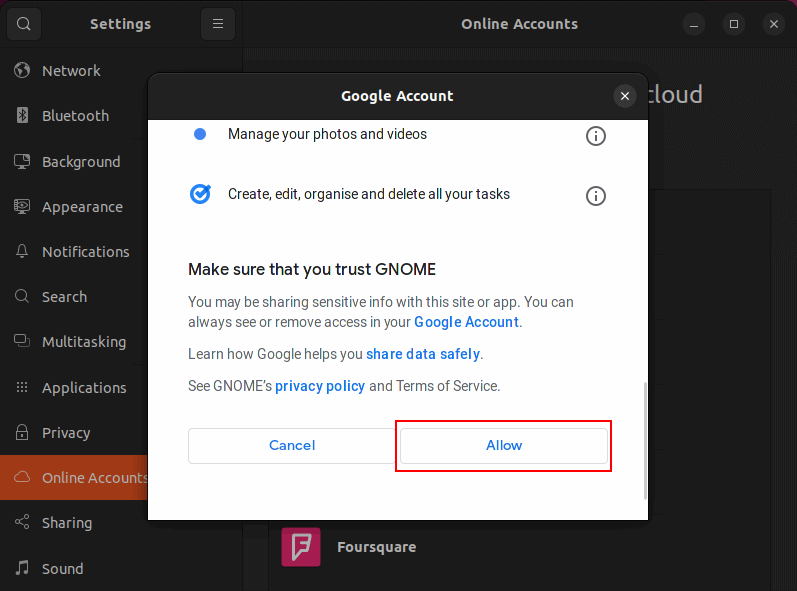 After this, allow desired permissions and then close it by clicking on the cross button in the top right corner.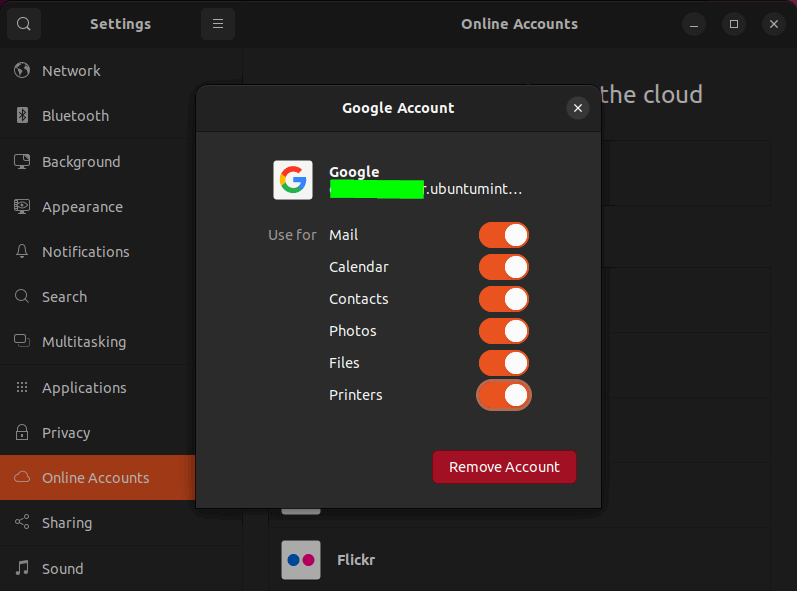 With this, you have successfully synced your Google Account (including Google Drive) with your Ubuntu.
To access Google Drive, you can click and open the "Files' application. After that, find your Google account in the left-side navigation panel and click on it. Doing this will open your Google Drive in Explorer: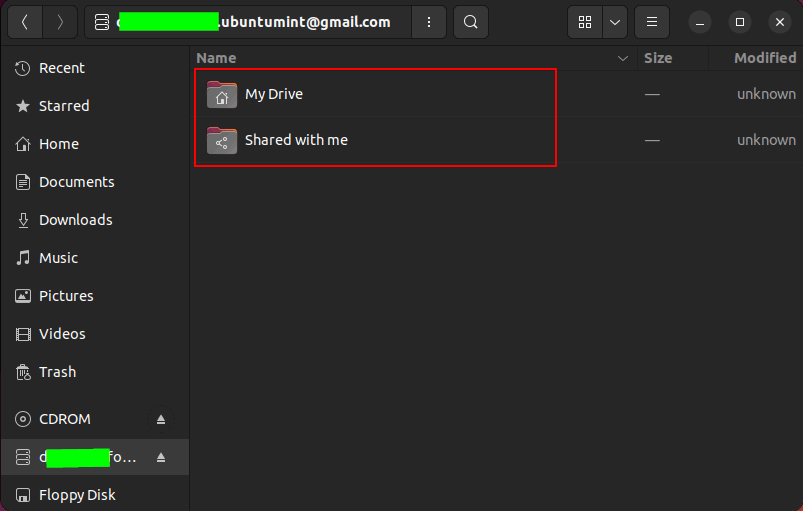 You have accessed your Google Drive from your Ubuntu machine.
Note: You can also add more than one Google account to your Ubuntu. Subsequently, all accounts will be listed within your Files folder. By hovering over a file, you can verify its name and determine which drive you want to access.
2. Install Google Drive in Ubuntu Using PPA
Those who prefer using the command line methods can access their google drive and other Google services by using the "google-drive-ocamlfuse" tool, which is a handy tool to install and configure your google drive.
Utilizing this tool brings an additional benefit as it creates a dedicated directory for your Google Drive, which enables you to access your content both online and offline, enhancing your overall experience.
To install Google Drive in Ubuntu through the Ocamlfuse tool using the Personal Package Archive (PPA) repository.
$ sudo add-apt-repository ppa:alessandro-strada/ppa
$ sudo apt update && sudo apt upgrade -y
$ sudo apt install google-drive-ocamlfuse -y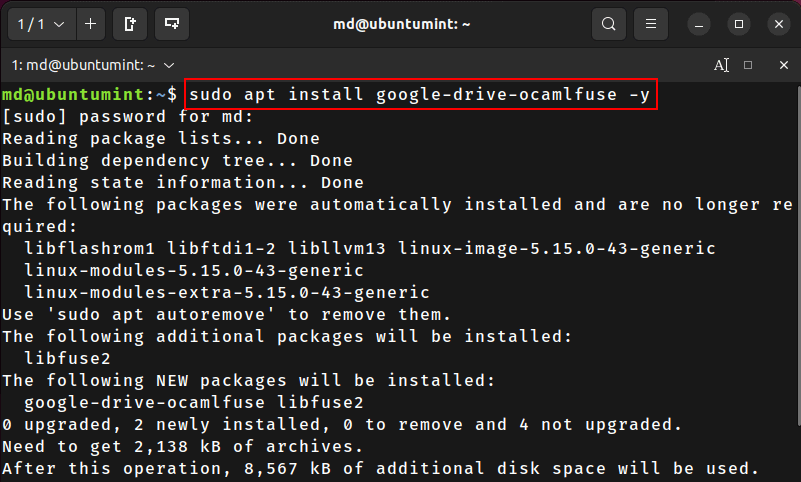 Upon completion of the installation, access your google drive by executing the command stated below:
$ google-drive-ocamlfuse

Execution of this command will launch a browser window, prompting you to enter your Gmail ID and Password to log into your Google account.
After your login with your credential, Click "Allow" to grant access to gdfuse, to enable your system to use Google Drive, which will generate a system authorization token to link the system to gdfuse and your Gmail account.

Next, you have to set up a new drive to access your Google Drive.
$ mkdir -v ~/GoogleDrive

After creating the new directory you will have to mount your drive onto the directory and to do that use the given command:
$ google-drive-ocamlfuse ~/GoogleDrive

However, if your system asks for permission, grant it.
Afterward, execute the following command to check if the drive is successfully mounted or not:
$ df -h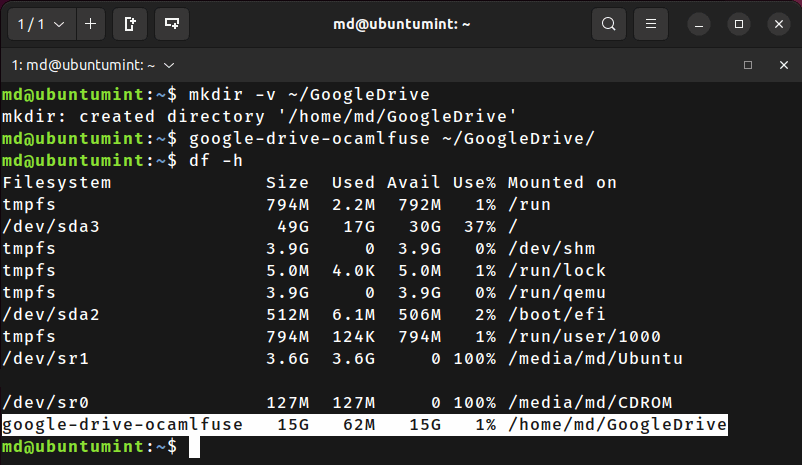 Once you have completed these steps, open your file explorer "Files" and locate your drive from the list of files.
You have successfully installed and accessed your newly connected Google Drive!
Bonus Method For Accessing Google Drive
Apart from the above solutions, there is also a way of accessing your google drive by using your browser and it does not require any command or installation process.
To do so, simply open your favorite browser and go to Google Drive's official website. Then, enter your credentials to access your google drive from your browser.
Conclusion
Google Drive is among the finest cloud-based storage solutions. Nevertheless, some individuals encounter difficulties when attempting to install it on the Ubuntu system.
To overcome this challenge, this guide presents various comprehensive methods for installing Google Drive on your Ubuntu. Choose the approach that suits you to enhance your cloud storage experience.