Getting tired of the usual Minecraft graphics? No worries at all! Minecraft shaders are here to level up your game and make it look seriously amazing. They're like a magic wand for your visuals, adding extra pizzazz and making everything way cooler.
Think about vibrant lights, super cool shadows, and textures that'll blow your mind – yep, that's what shaders do! So, if you're all set to give your Minecraft world a jaw-dropping makeover, let's jump in and learn how to install shaders to take your gaming to a whole new level.
Insatll Minecraft Shader in Ubuntu
To install Minecraft shaders, you first need to install "OptiFine", a customizable Minecraft mod that enhances the graphics of the Java-based version of the game.
However, before installing OptiFine, your system requires Java. If Java isn't installed, execute the apt command provided below to install it:
$ sudo apt install default-jre

Once Java is installed, head to the OptiFine download page to grab the latest release and install it as shown.
$ chmod +x OptiFine_1.20.1_HD_U_I5.jar
$ java -jar OptiFine_1.20.1_HD_U_I5.jar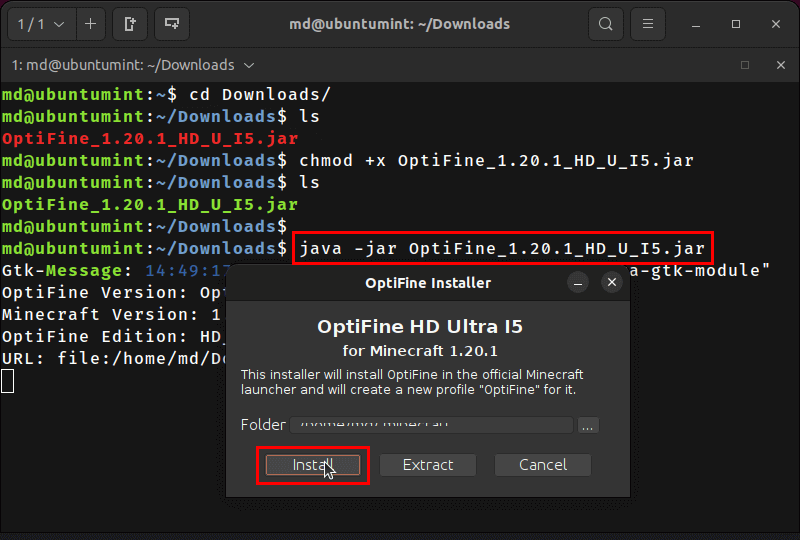 Once OptiFine is successfully installed in your system. Now, it's time to download the desired Minecraft shaders to enhance your gaming experience. There are multiple websites that offer shaders; however, it's important to download them from a trustworthy source to ensure your system security.
Here are some of the shaders along with a brief description:
| | |
| --- | --- |
| Shader Name | Description |
| BSL Shaders | It offers cinematic effects, lighting, and color adjustments. |
| SEUS Shaders | It offers realistic lighting, water effects, and other elements. |
| Continuum Shaders | It focuses on improving lighting and atmospheric effects. |
| KUDA Shaders | It intensifies the shadows, water reflections, and lighting. |
| Sildur's Vibrant Shaders | It offers customizable visuals with vibrant colors. |
| Chocapic13's Shaders | It enhances lighting, shadows, and overall visual quality. |
| Wisdom Shaders | It focuses on improving the game's natural and organic feel. |
| Beyond Belief Shaders | It enhances lighting, water, and realistic visual effects. |
| TME Shaders | It offers a unique visual style with vibrant colors. |
In this blog, we will download and install the BSL Shaders by visiting the BitsLABLAB webpage and click on the "Download via CurseForge" button.
Once the download completes, open Minecraft and navigate to the installation tab. Here, click on the "Play" button for OptiFine.

When you will click on the OptiFine "Play" button for the first time, a prompt will appear. Select the checkbox and then press the "Play" button.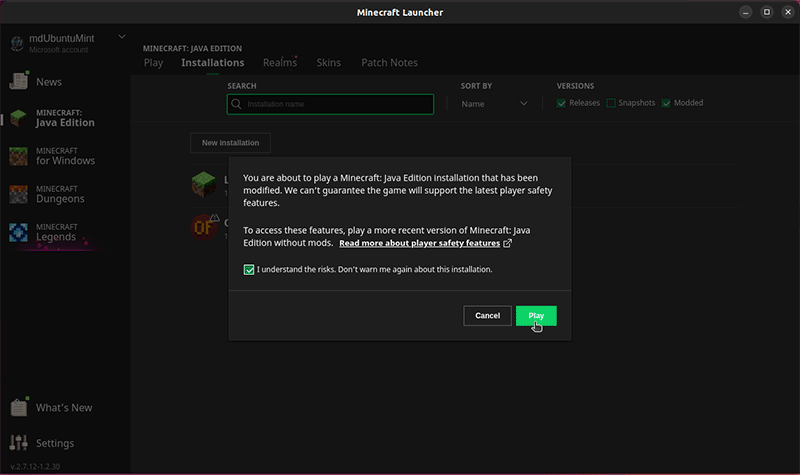 On the Minecraft welcome/starting screen, press the "Options" button.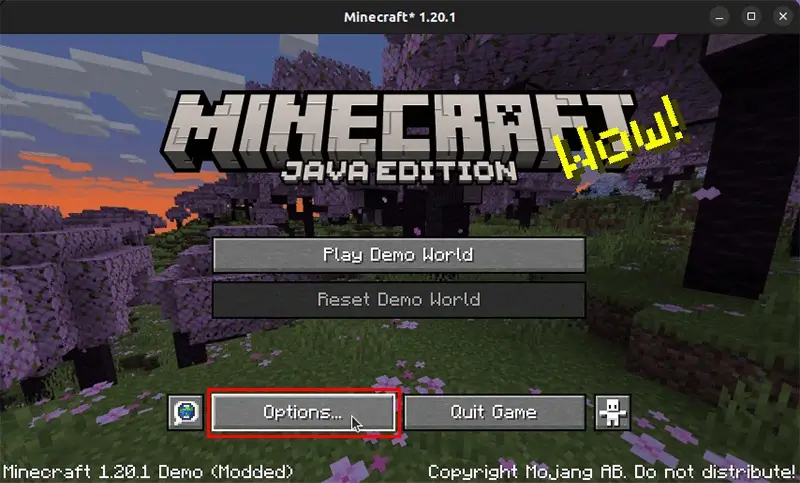 In the Options setting, hit the "Video Settings" button.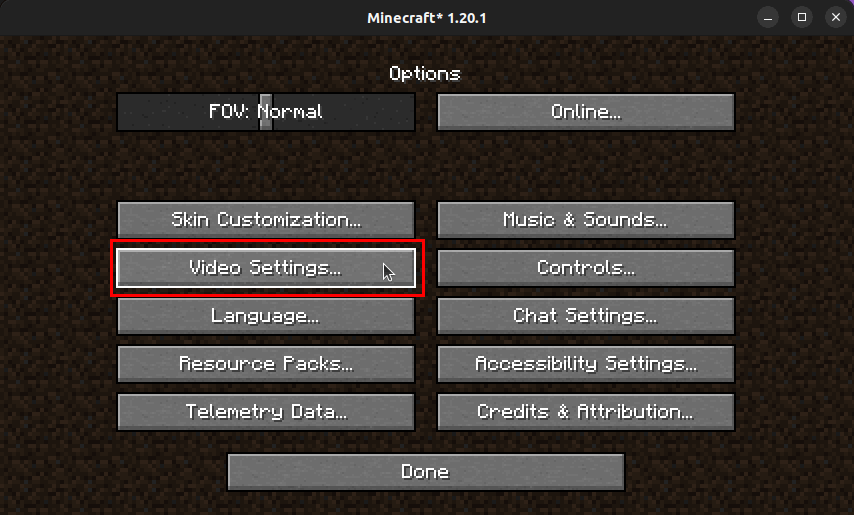 Next, press the "Shaders" button.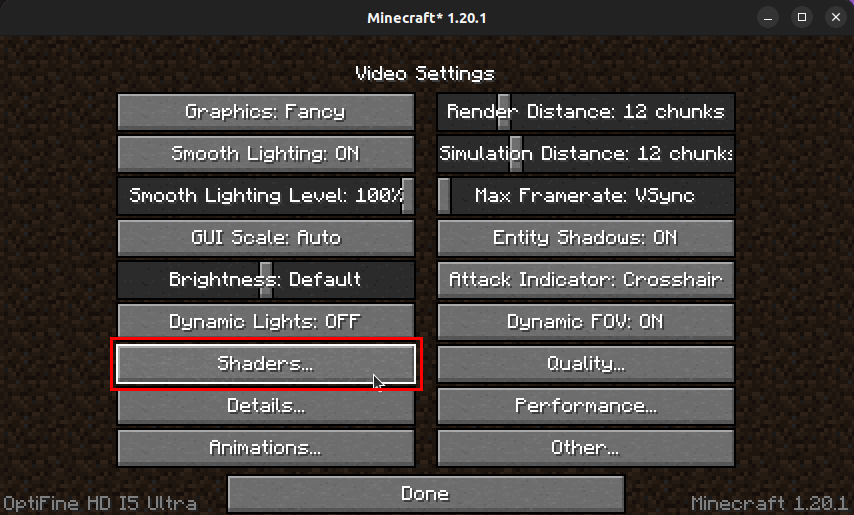 In the Shaders tab, you will notice that no shaders are installed at the moment.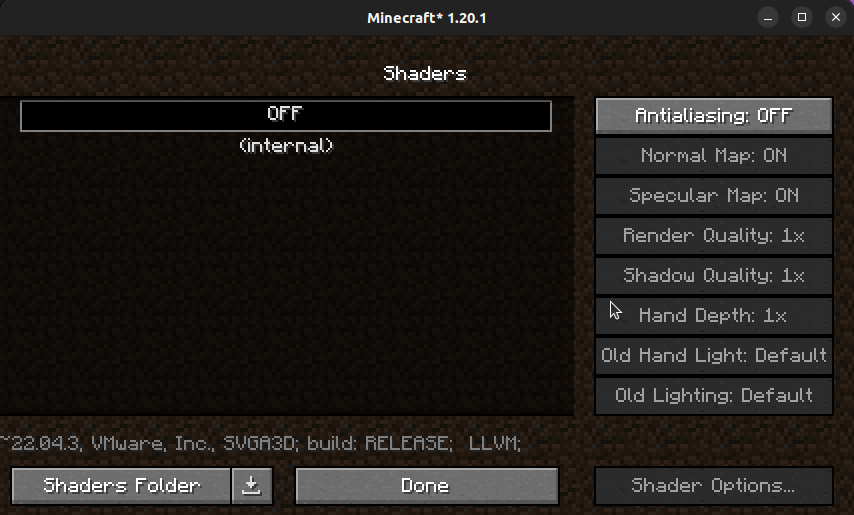 To install the downloaded BSL Shaders, move the downloaded zip file of BSL Shaders to the "~/.minecraft/shaderpacks/" directory.
You can accomplish this using the GUI drag-and-drop method or any other preferred way. In this case, we will use the following cp command for the process:
$ cp BSL_v8.2.04.zip ~/.minecraft/shaderpacks/

Upon successfully executing this command, you will observe that the BSL Shaders option will appear in the Minecraft Shaders window. Finally, select the BSL Shaders and click the "Done" button to install it in your Minecraft.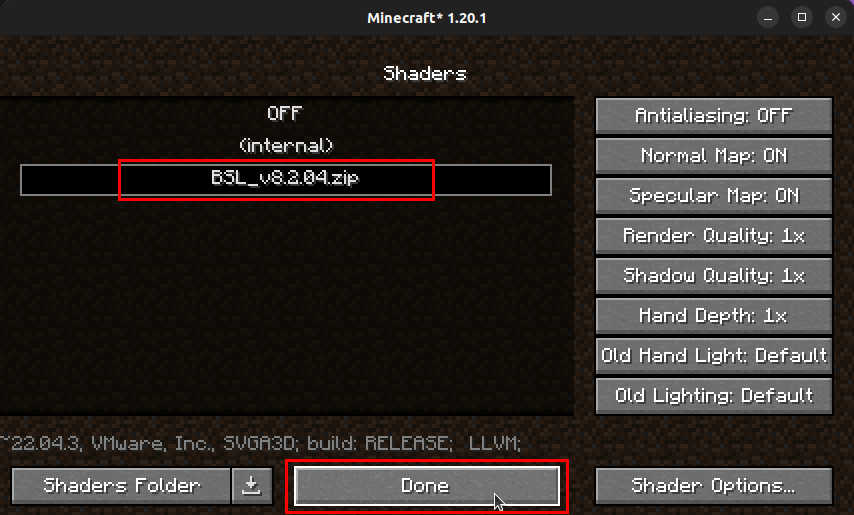 Experience Minecraft in vibrant colors and stunning beauty with BSL Shaders.
Conclusion
Incorporating shaders into your Minecraft experience isn't just about graphics. It's about changing the perspective and interactivity of the blocky universe. This blog provided a guide for installing your preferred Shaders in Minecraft.