Similar to Rocky Linux by CentOS creator Greg Kurtzer, AlmaLinux is also a Linux distribution that came to existence as a CentOS alternative after the demise of stable CentOS 8 by Red Hat.
However, where Rocky Linux is a brand new project, AlmaLinux is a new name for the already existing Project Lenix by CloudLinux.
AlmaLinux OS is a community-driven forever free and open-source enterprise-grade Linux distribution. It is a 1:1 binary compatible fork of the popular enterprise OS, Red Hat Enterprise Linux (RHEL) with committed free support for 8.x release through 2029, including stable and thoroughly tested updates and security patches.
A stable version of AlmaLinux OS 8.5" arrived with Linux 4.18, GNOME 3.32.2, and various exciting new features including the most requested one, Secure Boot.
New Features in AlmaLinux 8.5
The latest production-ready and stable version 8.5 of AlmaLinux is based on RHEL 8.5 with applications and services compatible with it.
The highlighting enhancement AlmaLinux 8.5 has brought is the full support for the Secure Boot security standard. This means if you've enabled the Secure Boot feature on your computer, you can now install the AlmaLinux distribution without any trouble.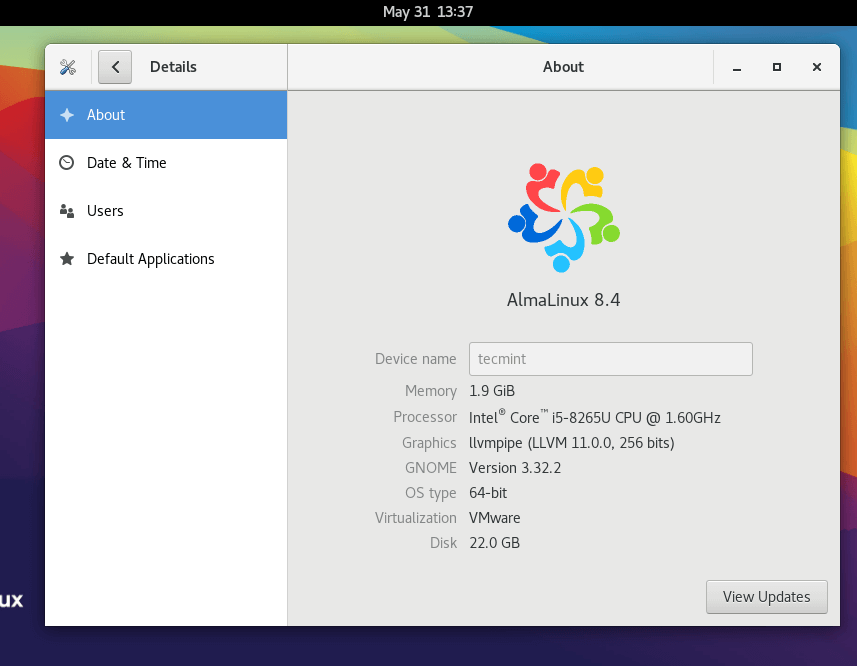 Another important addition in version 8.5 is the support for OpenSCAP security profiles, which you can now use in your production environment.
Moreover, it has introduced a "devel" repository only for developers to provide extra packages that are not available in upstream Red Hat distribution. However, it is highly recommended that you should not use it in production.
In order to match the upstream Red Hat Enterprise Linux behavior, AlmaLinux OS 8.5 has now disabled the "PowerTools" repository by default. In case you still want to use it, you can get it from a separate file almalinux-powertools.repo.
AlmaLinux OS 8.5 has added new module streams such as Python 3.9, SWIG 4.0, Subversion 1.14, Redis 6, PostgreSQL 13, and MariaDB 10.5. It has also upgraded the compiler toolset to its new version that includes GCC 11, LLVM 12, Rust 1.54, and Go 1.16.
Download AlmaLinux DVD ISO images
Currently, a stable version of AlmaLinux 8.5 is only available for x86_64 and aarch64 system architectures. Though the image of AlmaLinux OS 8.5 for ARM is also available, it is still in beta so you should not use it in production under any circumstances.
The installation ISO image of AlmaLinux comes in three variants: Minimal, Boot, and DVD. The boot image is a netinstall CD image that requires the Internet to download packages.
But if you want to do an offline installation, you can opt for either a minimal self-containing DVD image or a full installation DVD image that contains almost all AlmaLinux packages.
Direct Download AlmaLinux 8.5 ISO Images
You can also download images of AlmaLinux 8.5 from the mirror geographically closest to you. You can check the list of all official mirrors from all over the world.